If you're looking to take your game to the next level, a new golf bag is essential. But which one? This comprehensive guide will teach you everything you need to know about choosing the right golf bag for your needs.
What type of golfer are you?
Whether you're a beginner golfer or an avid one, deciding on the right golf bag can be tough. In this guide, we'll provide you with a list of types of golfers and the best golf bags for them to help you make your purchase.
First, think about what type of golfer you are. Are you a low-ball hitter who likes to use a lighter bag? Or are you more of a power hitter who needs a bigger and stronger bag? Once you know your swing style, it's easier to choose the right bag.

Secondly, consider what kind of game you want to play. Do you mostly play short games or long games? If you mainly play short games, then a small bag will work just fine. However, if your game is mainly long games then you'll need something bigger and more durable.

Next, Are you a recreational golfer, intermediate golfer and professional golfer? 

Next, what issue are you trying to solve with your new golf bag? Do you want a lightweight bag that won't add too much weight to your arm or do you need more storage space?

How often will you use your new golf bag? If it's just for recreational purposes, a cheaper bag may be sufficient. If you're looking to compete in tournaments or travel with your new bag frequently, then you'll want to invest in a better one.

How important is style to you? Some people prefer simpler designs while others want more stylish options. Once you've answered these questions, it's time to start shopping!

Finally, what is your budget? Golf bags range from under $50 to over $1000. Take into account your budget. Just because a bag is expensive doesn't mean it's the best option for you. There are plenty of cheaper bags out there that still offer great performance. So don't be afraid to shop around until you find the perfect one for your needs!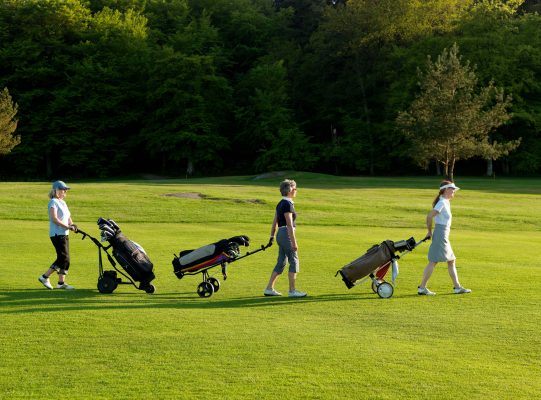 When it comes to your budget, the most important factor is how much money you're willing to spend. There are a number of great options available at different price points, so don't be afraid to test out a few before settling on one. As for which type of golfer you are, this will largely determine the type of golf bag that's best suited for you. For example, if you're a beginner or low-level player who primarily plays traditional golf courses and doesn't need many extra amenities like rain proofing or storage space, then a lightweight and foldable travel bag may be the best option for you. On the other hand, if you're an experienced golfer who plays multiple courses and travels extensively for tournaments, then a more robust and rugged bag may be better suited for your needs. And finally, depending on your typical gameplay style (holes in one versus multiple shots), different bags will work better for different situations. For example, if holes in one are your main goal then a smaller and easier-to-carry bag is perfect. Conversely, if a long drive.
Buying a Golf Bag
There are a few things to consider when shopping for a golf bag. First, what type of golfer are you? Do you prefer an all-around bag that can handle both short and long games, or are you more focused on one specific area of the course? Second, what type of terrain do you play on most often? Are there sand traps or water hazards near the green that need special attention? And finally, how much money are you prepared to spend?
If you're just starting out and want an all-around bag that can handle most courses, a generic polyester or canvas golf bag should be enough. If however, you focus more on specific areas of the course or want something specifically designed for sand traps or water hazards, then a speciality golf bag may be better suited.
When it comes to price, don't be afraid to splurge. Quality bags can cost anywhere from $50-$1,000+, but if it means improving your game significantly then it's worth it. There are also many discount retailers like Golfsmith and Titleist that carry quality bags at discounted prices so keep an eye out for those too! 
Types of Golf Bags 
Golf Sunday Bag
Golf Sunday Bag Also known as Golf Pencil Bag is designed to be lightweight, durable and compact, the pencil bag is a popular golfing accessory. Sunday Golf Bag is the perfect solution for beginners and golfers looking to improve their game. They are also ideal for travel. They are easy to carry on the golf course and can be stored in many places.
The pencil bag is an underrated piece of equipment. Its simplistic and lightweight design is ideal for golfers who want to enjoy their surroundings.
Depending on the size of the bag, you can expect to be able to fit a full set of clubs, a rain jacket, some tees and some snacks. A full-length apparel pocket is an excellent way to carry extra clothing. Consider a bag with padded areas for lumbar support. It's also a good idea to make sure the straps are comfortable, as they can add to the stress of carrying the bag.
Although pencil bags are not as spacious as traditional cart bags, they are convenient for golfers who want to travel light. They also offer convenience for those who prefer to walk the course. 
If you are thinking about purchasing a pencil bag, you should first look at the quality of the materials and the design. 
Stand Bags
Whether you're an avid golfer or just play on weekends, stand bags offer more storage space than other golf bags. They also provide you with a better way to move around the course. The best stand bags feature reinforced stands for maximum durability. The top models will also have pockets for valuables and apparel.
A good stand bag should also be waterproof. The material used to build these stand bags is Polyethylene terephthalate, which is very lightweight and durable. The top of a stand bag should have a ridged, angled profile to hold irons and wedges upright. Using a well-designed top means clubs don't snag or get stuck.
A quality stand bag will also have comfortable straps. The shoulder straps should be padded for added comfort. There should also be magnetic water bottle sleeves which are easy to access and insulate drinks from moisture. These features make this stand bag a great value for money.
Tour bags
Tour bags are the maximum size bag golfer can use Whether you're a beginner golfer or an expert, a Tour bag can enhance your game. These bags are designed to provide a superior level of protection for expensive clubs. Unlike most other bags, they're made to last. Their design makes them ideal for occasional carry.
They also feature a number of perks such as an insulated beverage pouch, a molded 6-way top cuff and a magnetic accessories pocket. If you're looking for a Tour bag, the Mizuno Tour is a great option. It features a quilted finish and a chunky zipper.
As with most other golf bags, the tiniest tour bag is not necessarily the best. You'll need to choose a model with plenty of handles and a sturdy strap if you're looking to avoid injuries.
Conclusion
Think about the above-mentioned factors before buying a golf bag you won't regret it. By taking the time to read through this guide, you'll be well on your way to making an informed purchase that you'll love. Thanks for reading!