Hunting Flask – Features
Our Hunting Flask is crafted from high-quality stainless steel for durability.
Holds 330 ml (11 fl oz) capacity.
Compact and portable with a height of 9.5".
Wide top diameter of 2.40" for easy pouring.
Stable and secure with a 1.15" bottom diameter.
Features a new captive top for added convenience.
Rust-resistant and easy to clean for long-lasting use.
Perfect for outdoor adventures, camping, and more.
Leather Case – Features
Our Leather Case is crafted from 100% Genuine Cowhide Leather.
Comes in Tan, Black, or Brown options.
Dimensions: 11.15" (Height) x 3.15" (Top Diameter) x 1.60" (Bottom Diameter).
Case Bottom Strap length: 10".
Features an Adjustable Top Strap with Buckle.
Secures with Stud and Hole Fastening.
Equipped with Sturdy Thick Brass Hardware.
Boasts Durable Stitching.
Easy to Carry and a Breeze to Clean.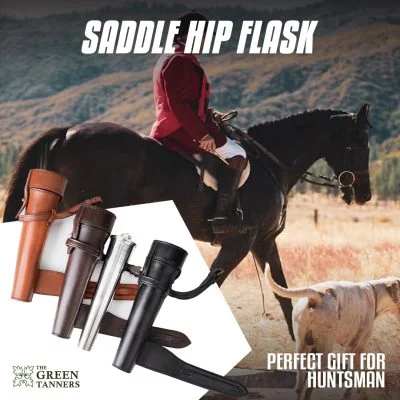 Greenman Outdoor Wholesale is a leading manufacturer and provider of high-quality hunting, shooting, and outdoor accessories at competitive market prices. We offer wholesale and bulk purchasing options for those looking to stock up on supplies. Please do not hesitate to contact us with any wholesale queries or to place a bulk order.