FEATURES
Our Camping Steel Stool is made by our skilled craftsmen from 𝟏𝟎𝟎% 𝙂𝙚𝙣𝙪𝙞𝙣𝙚 𝘾𝙤𝙬𝙝𝙞𝙙𝙚 𝙇𝙚𝙖𝙩𝙝𝙚𝙧.
Adjustable Height Positions.
You need your Camping stool to be strong enough to hold an adult's weight year after year so a well-
made, high-quality frame topped with durable Leather is important.
They need to be light and fold up compactly enough to tuck in a backpack or add to your mound of camping gear. Once tried, you won't want to venture far in the outdoors without one of these always available seats.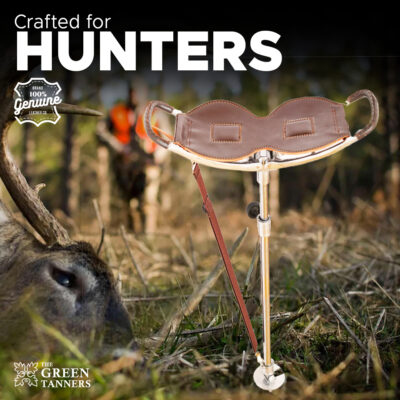 Greenman Outdoor Wholesale is a leading manufacturer and provider of high-quality hunting, shooting, and outdoor accessories at competitive market prices. We offer wholesale and bulk purchasing options for those looking to stock up on supplies. Please do not hesitate to contact us with any wholesale queries or to place a bulk order.