Leather Cartridge Bag – FEATURES

Our Leather Cartridge bag is made from genuine cowhide leather and adorned with brass hardware.
Ample capacity of 100-120 cartridges for convenient storage.
Compact sizes: Length 10 inches, Height 9 inches, Width 4 inches.
10 front cartridge holders designed for quick and easy speed loading.
Lightweight construction ensures effortless portability.
Strong stitching throughout the bag for durability.
Scalloped opening for easy access to your cartridges.
2 inches adjustable webbing shoulder strap for comfortable carrying.
Hinged lid design allows for convenient access to your ammunition.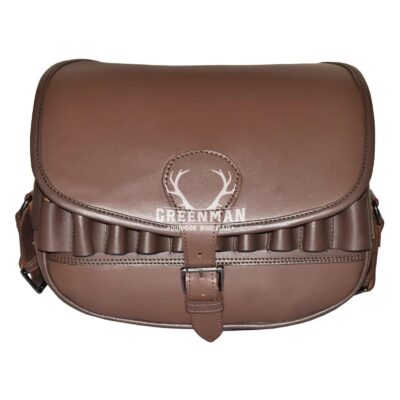 Greenman Outdoor Wholesale is a leading manufacturer and provider of high-quality hunting, shooting, and outdoor accessories at competitive market prices. We offer wholesale and bulk purchasing options for those looking to stock up on supplies. Please do not hesitate to contact us with any wholesale queries or to place a bulk order.